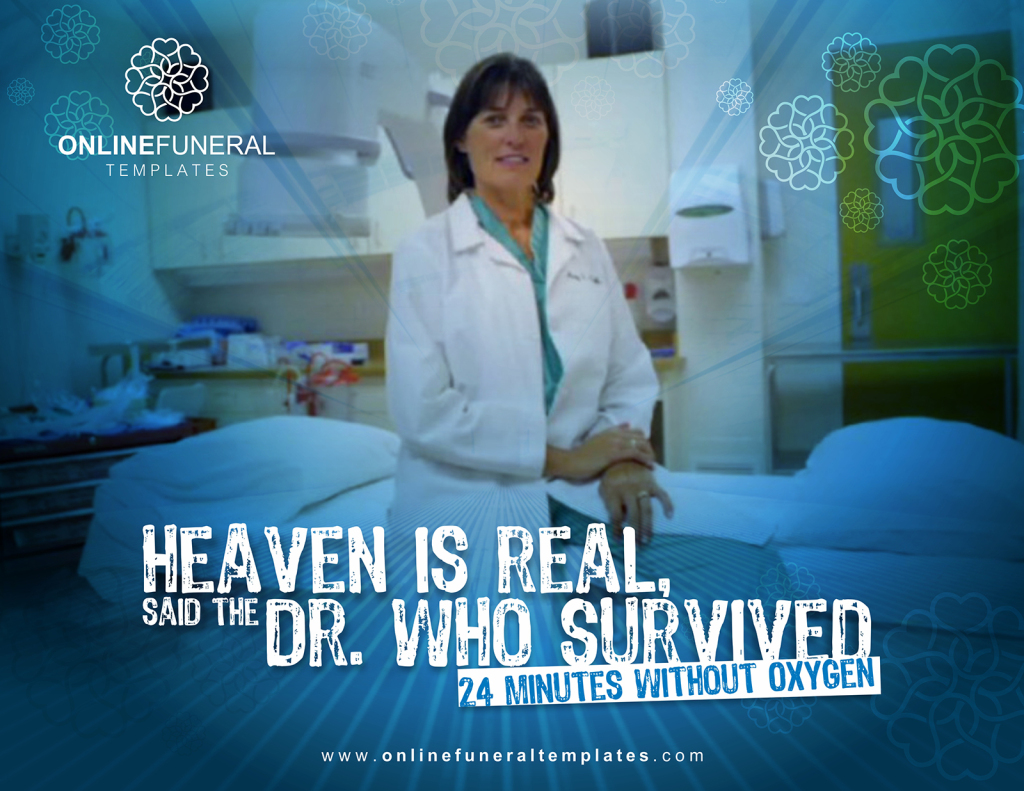 Life and Death experiences have surely been a controversial topic to discuss as still people are trying to find out what goes after life. Meet Dr. Mary Neal, an orthopedic spine surgeon who would closely describe herself as to a "concrete thinker" who quiet is not too "fanciful" and does not exaggerate on anything; she spent a long time thinking about seemingly inexplicable events that got unfolded back in 1999 post a near death experience.
After she almost drowned while a kayaking accident happened on a trip to Chile – and supposedly kept struggling for more than 24 minutes while being deprived of oxygen – remarkably Neal survived without the possibility of any brain damage.
Post her miraculous escape from death; she claimed that she had a brief heaven visit, communicated with spirits and was warned regarding the death of her son about ten years ago before everything happened which was an experience that almost got her confused in awe. Today the online funeral template store discusses the life-changing experience of Dr. Mary Neal who created a new life post incidence and learned to live it that way. In the funeral magazine section on our funeral template store, we share her brief near-death experience and her sightings of the mysterious afterlife as well.
Life After Returning from Being Dead
After returning to her day to day routine post her traumatic accident, Dr. Neal told that she is now on a route to find answers on everything. Still, she was really confused, whether her visions about the whole heavenly realm were real or not?
"I was keen on knowing, what was the significance of all things that I experienced during my short out of life experience. I had done with the process of coming up with alternative explanations," Neal said, "In Deep Shift" of OWN TV. Also, she noted that she was enough considering the likeliness of hallucinations and dreams.
"As humans, we would be keen on having explanations for out of the world experiences that we would be able to know instead of anything that would be divine. I am not much whimsical. I am not too much of a solid thinker, and I do not like to embellish on anything."
After providing the explanation of all events that she went through, Neal claimed that she believed what happened to her "was way beyond science," and she briefly discussed what visions she allegedly had in heaven.
She further described "I mean the sheer beauty of everything that was happening around me was just incredibly intense," she also said. That there isn't any other earthly equivalent."
Findings from the Angels & the Future Predictions
Later on, she recalled about going through something domed in structure and further being greeted by spirits who just "overjoyed" upon her arrival – later on, she described all these entities as being physical beings having the visible and notable formation.
"As they were mainly in their physical form, they had arms, heads, and legs and weren't covered up with any robes," she said according to the Huffington Post. "Also, I am assured d soothed about the fact that everyone I saw in those visions was there to guide me, love me and protect me."
She then recalled not willing to go anywhere back from heaven, but spirits told her that her time has not yet come, and subsequently she got reunited back with her body, she claimed further – but not much before letting her know that something would haunt her total memory for the further years to arrive.
While being asked about sharing her entire experience with others, she hesitantly added up that the spirits also said that some point in future her eldest son would die.
"They did not state any time or date, but according to them it was quite clear that it would happen," she said. "Each day I woke up with a new hope for my son's life and hoping that the plan would change."
In the year 2009, ten years later, she learned that on the day when she was done with her memoir, "To Heaven and Back," that her son died in automobile accident according to the Huffington Post.
Mary Neal said "I will not pretend to have all answers. According to one of my kids, I was not allowed in heaven. My mandate was not being here for my son's death," She added "My directive was to return and share my experience as if found it supportive and comforting that would also inspire other people to have a look at their lives and search for God working in day to day life."
Watch the whole story of Dr. Mary Neal below.