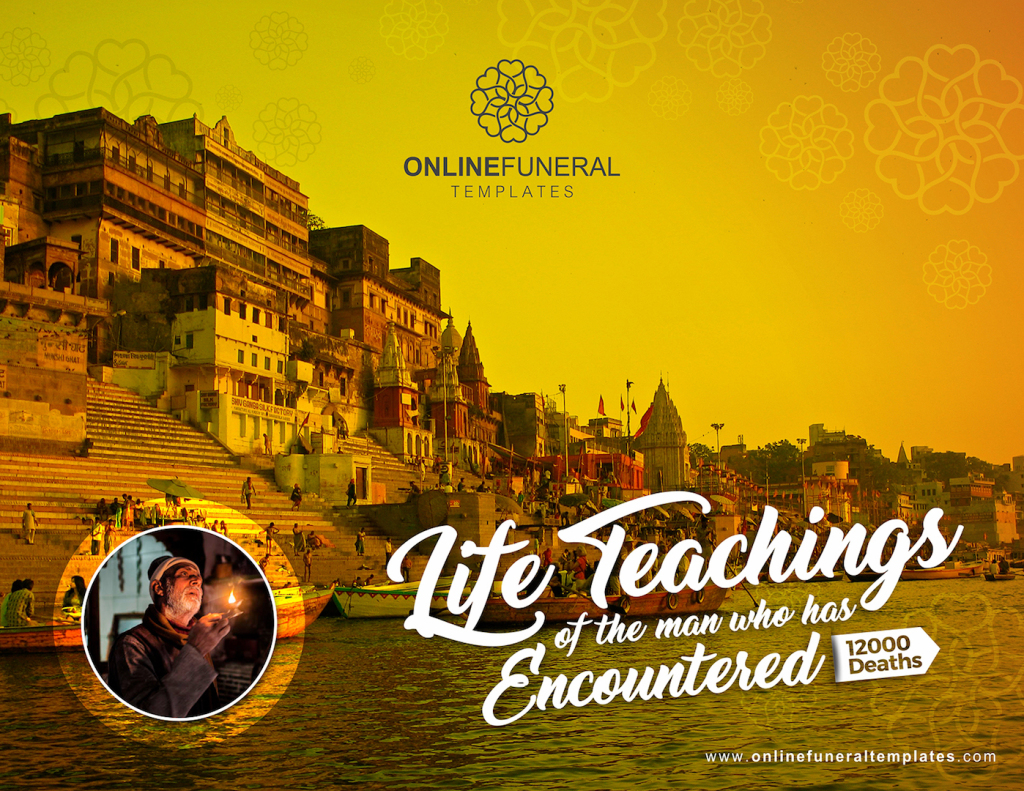 If we talk about the greatest triumphs of life, death will be on the top of it. Death is the end of the mortal journey to which we all are moving forward to. Moment after moment, hours after hours, we are progressing towards our end. It's coming, it's calling, and we are moving on to it. How strange is that we live on every day thinking that we will never come to an end? That all this is forever, but sadly it isn't anything is.
So, today on the magazine of the Online funeral template, a funeral template store for letter cards, announcement and bookmarks, we are not going to talk about death or afterlife story, but we will be talking about life, we are going to share the experience of someone who has seen over 12000 deaths.
6 Life Experiences that death teaches us about life
In India, many Hindus have a belief that if you took your last breath in Kashi (Varanasi-India), you would achieve what is renowned as "Kashi labh" or "the fruit of Kashi" -"Moksha" .(complete freedom from the cycle of rebirth driven by the law of karma).
This story is about a man, Bhairav Nath Shukla, a manager of Kashi Labh Mukti Bhawan, a and unique guesthouse where people check-in before they die.  In his indifferent life as a manager for about 44 years, Shukla has seen many wealthy and poor take shelter in the guesthouse in their last period as they ascend towards death and lingers peace in their life. Shukla lives and helps them on their final journey. Till now, he has seen more than 12000 deaths in his life, and such close and massive encounter to death has given him enough lessons that as a person we must know. So, today, apart from the ordinary lives, we are going to share his experiences to help you find comfort in your life. Let's get started-:
1. Unravel all conflicts before you go from the world-
Throughout the life, we carry a lot of issues, grudges and pains in our heart. As we ascend in our lives, we make quarrels with the loved ones- we hurt them, and somehow hold their grudges throughout our life. I have seen a countless people calling for their loved ones in their last days, just to resolve their grudges with them, Said Shukla.
Resolve your clashes with the people you love, because not everyone gets the chance to do that.
2. Be willing to seek help from others
"He will just make more mistakes and make my work lengthier." "I can't rely on him." "He doesn't know how to do that" there could be a list of similar thoughts moving in our mind when we have to take others help in our work, but know that If you want to grow in life and achieve great things, you have to expand your horizons. Not just for the financial purpose, but for your intellect. While compromising his thoughts on this, Shukla said, "to know and do things on your own might look empowering to you, but it often limits you from observing and gaining what others have learnt.".
 Take other experience in the process of learning; you will grow.
3. Find Peace & Beauty in the purest form of pleasure 
"I have seen rich and poor eating the same food and sleeping on the same bed in this guesthouse in their last days. I have seen them enjoying the simple pleasures, realising that nothing else makes any difference. "said the Shukla.  "I sometimes wonder, how radical life they might have led if they have done right from the beginning." He further added.
The message is to Take some time, pause and admire the few dull moments, as there are happening all around us.
4. Acceptance is liberation
One of the major reason of why we stayed so confused and engulfed in our lives is non-acceptance of the truth and the denial of our emotions and situations. I have seen people regretting in their last days about non-accepting some of the greatest reality of their life. We must accept our problem and the situation, because when you accept it, then only you can find out what to do about it or how to come out of it.
Remember, Indifference and avoidance of the truth are the primary fuels of endless fear and anxiety
5. No discrimination- Acceptance everyone as the same to make your service easier
"Discrimination leads to chaos. If we categorise people based on their caste, creed, religion, colour and taste, it would be so difficult for us to help them. I have genuinely felt that the day you treat everyone the same, is the day you breathe light, worry lesser about anyone thoughts and stay calmer." That's the secret that makes Shukla more devoted and passionate about his demanding profession.
Accept people as the same. Don't discriminate. Follow humanity.
6. Break up in the world and beyond-
This section would be purely based on Shukla's words. On breakups throughout death and life, he said, "No, you don't break up ties or relations with people. What once made in the intangible form, cannot be ended through actions. You break up with the thoughts that link you to them, knowingly or unknowingly."
As per Mr Shukla, we cannot break any positive or negative relation, but if we can break the thoughts that bind us to a resentful memory, we might become capable of unburdening ourselves from being bitter and vengeful.